With the COVID-19 pandemic at the forefront of people's minds around the globe, the public health profession is taking center stage as it leads the charge to keep individuals and communities safe and healthy. The mission of the public health profession has always been to safeguard the health of communities by implementing policies and strategies to prevent disease and promote wellness.
Now, more than ever, public health professionals are being asked to step up and work with scientists, researchers, and government officials to ensure a swift end to the current pandemic and to put in place policies and procedures that will leave us better equipped to deal with future outbreaks of illness.
In light of the need for highly knowledgeable public health professionals with hands-on training, Sacred Heart University is excited to offer its Master of Public Health program. To highlight the breadth of possibilities and the unique features of this advanced degree, we've put together a comprehensive resource — A Degree that Makes a Difference: Exploring the Master of Public Health at Sacred Heart University.
What do I get in the guide?
When you download this resource you'll receive tons of valuable information about the field of public health, the career outlook, SHU's graduate degree program, and more. Here are just a few of the questions you'll find answered inside the guide:
What is public health?
How is the field of public health evolving?
What kind of jobs can I get with my MPH?
What is the salary for a public health professional?
What skills do I need to succeed professionally?
What makes Sacred Heart University's MPH program unique?
Why should I attend SHU for my graduate degree?
What kinds of hands-on experiences could I have during my degree program?
Additionally, you will get to hear firsthand from our students and faculty what it's like to be a part of the extraordinary MPH program at Sacred Heart.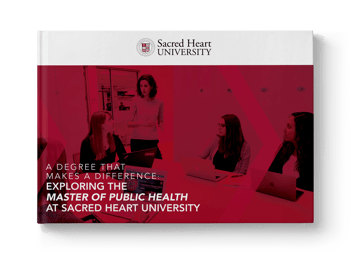 Access the guide today!
It's times like these that remind us why we need confident, highly trained public health professionals in our communities. If you feel called to serve in this profession, we encourage you to download our guide to learn more about earning a graduate degree in public health and making a difference in your community. If you would like to speak with one of our admissions professionals, please feel free to contact us. Or, if you are ready to get started on your graduate degree, apply today and we'll be in touch shortly.
Best of luck and thank you for your dedication to our health!