Sports broadcasters seem to have all the fun — earning a living by watching and talking about big games, important athletes, and major news in the wide world of sports is a dream career for many athletes and fans alike.
If you're wondering how to start a career in sports broadcasting, this blog will help you understand the essential skills you need to succeed and how a graduate degree can help you transform your passion into an exciting and fulfilling career in sports journalism and communication.
how to become a sports broadcaster
The best broadcasters and journalists in sports can make audience members feel the same excitement and energy as the fans in the stands, whether they listen to a radio program or watch live on TV. Passion for the subject can certainly play a major role in that feeling, but it's only one element of what makes a sports broadcaster successful.
To thrive in the world of sports journalism, you need more than just a love for the game — your education, soft skills, technical abilities, and professional network will all play a role in your success. One of the best ways to break into the field of sports journalism is by obtaining a graduate degree in sports communications, like the Master of Arts in Sports Communication & Media (SCM) at Sacred Heart.
A high-quality sports journalism graduate program will help you develop a theoretical, aesthetic, and historical understanding of the sports communication field, acquire the knowledge and technical skills necessary to pursue careers in the digital world of sports media, and develop a professional network you can look to for career mentorship and more.
what to look for in a sports broadcasting degree program
When it comes to graduate degrees in sports journalism, not all programs are created equally. The field of journalism is constantly changing, and the right master's degree can give you a valuable edge in a competitive and evolving job market.
Here are the top three things you should look for in a high-quality sports journalism graduate program.
1. Top-Notch Graduate Track Record
A hallmark of a high-quality graduate program is successful graduates who work in their field. Any broadcast journalism school worth its salt should have a host of alumni working as on-air broadcasters, producers, editors, and many other sports/media-related jobs.
A large network of successful graduates not only shows that a school has a great track record for preparing students for future careers, but it can also lead to exciting opportunities for current students in the program — like the connection that brought SHU graduate Camila Cayere Diaz, MA '20 to the Cotton Bowl in 2018.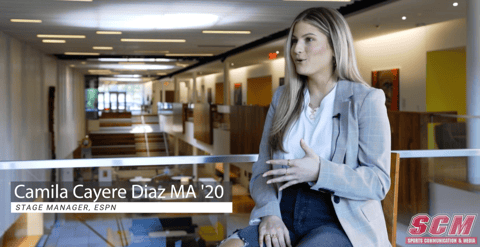 2. Sports Broadcasting Internships in Major Media Markets
A high-quality sports broadcasting master's degree program should include excellent classroom instruction and opportunities for on-the-job training. Internships that offer hands-on experience with the top sports media companies in major markets will help you stand out in a competitive job market.
SHU's location in the heart of the media industry gives SHU graduate students extensive networking, recruiting and internship possibilities — ESPN, NBC Sports, MLB/NHL Networks, WWE, and many other sports media companies make their home within driving distance of campus.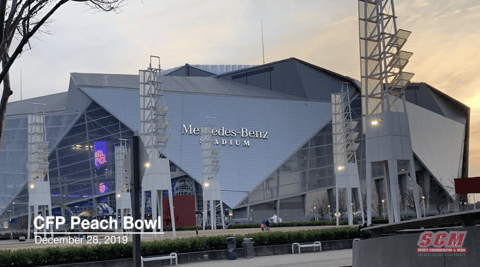 3. State-Of-The-Art Facilities & Equipment
You'll need more than an outstanding paper resume to get a job as a sports broadcaster. As a graduate student in sports broadcasting, much of your time should be spent building a demo reel — a short professional video that showcases your versatility, charisma, and experience — that you can send to potential employers.
The equipment and facilities you have access to in your program will affect the quality of your reel, so it's important to look for programs that give graduate students access to world-class equipment, software, production studios, and labs.
Sports Broadcasting Graduate students at SHU have access to the fully-equipped Frank & Marisa Martire Center for the Liberal Arts and Sacred Heart's West Campus, which offer media production studios and interactive laboratories designed to advance students' skills and knowledge needed for the global marketplace.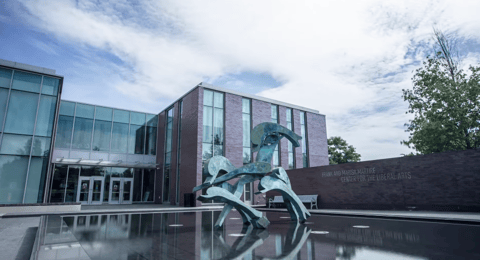 start your career in sports communication & media at shu
If you're ready to go from doing a play-by-play in the stands to working for a major news network, the MA in Sports Communication & Media from Sacred Heart is the degree you need to break into a sports broadcasting career.
Degree Tracks
The sports broadcasting track within the SCM program gives students the opportunity to produce sports media content as both on-air talent and behind-the-scenes camera operators and develop an accomplished digital portfolio/production reel of their work.
The athletic communications & production track focuses on providing students with extensive multimedia training in graphics production, including opportunities to showcase their production skills and critical thinking ability as they produce written work and multimedia content.
Download our Guide To The School of Communication, Media & the Arts to learn how you can expand your knowledge, build on your leadership skills and create your best work with a graduate degree from SHU.