The field of human resource management is becoming increasingly competitive. Not only are companies looking to hire the most skilled and experienced people to help fill their needs, but within these companies, there is a movement to empower and educate employees through furthering education opportunities and training.
What does this mean — practically? In short, it means that employers continue to prioritize the hiring of professionals who have advanced their knowledge and skills with a graduate degree.
So, maybe you're wondering: Is a master's degree in human resources worth it? We're here to tell you why we think so, back these assertions up with data, and allow you to hear from one student who's currently earning the Strategic Human Resource Management graduate degree at Sacred Heart University.
Strategic Human Resource Management — Defined:
So, what is strategic human resource management?
According to the Society for Human Resource Management (SHRM), strategic human resource management "involves a future-oriented process of developing and implementing HR programs that address and solve business problems and directly contribute to major long-term business objectives."
In other words, SHRM professionals are proactive in nature; they assess the strategic goals of an organization with the overarching business goals in mind — gathering information and making data-driven decisions in order to initiate positive change and achieve better results.
Career Outlook for HR Managers:
The career outlook for HR management professionals who hold an advanced degree is bright. In fact, it has been recognized as one of the best professions in the United States for salary and job prospects. Here are some fast facts about the job outlook, earning potential, and fastest-growing industries for HR management professionals: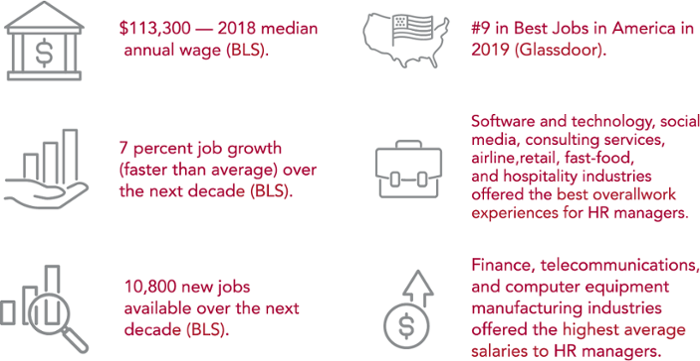 According to data collected by the Bureau of Labor Statistics, Connecticut has the fourth-highest concentration of jobs and location quotients in the human resource management occupation. Further, CT ranks in the top 25 percent of states with the highest annual mean wage for HR managers with an average salary of $143,990.
Job Opportunities for Professionals of a Master's Degree in Human Resource Management:
Within the larger field of HR management, there are several more niche areas for professional exploration. For example, your skills might be particularly well suited to a career in training and development, or you might have the personality and drive to thrive in a role as a manager of employment, recruitment, or placement.
Common careers for graduates of a master's degree in human resource management include:
Strategic Human Resource Manager
Human Capital Strategic Consultant
Talent Resource Acquisition Manager
HR Entrepreneur
Human Resource Staffing Specialist
Administrative Services Manager
Training and Development Manager
Thoughts from a SHRM Student at SHU:
Kezia Dos Santos is currently pursuing the Strategic Human Resource Management graduate degree at SHU. Here are just a few of her thoughts on her experience thus far.
"I always intended on earning a master's degree but was torn between a MBA program or Human Resource Management. So, I decided to wait and get further along in my career, and once I was sure that HR was the path I wanted to take, I decided to pursue a more concentrated degree in HR rather than an MBA.
I had been researching various programs for years, and decided to choose the MSSHRM program at Sacred Heart University because of the professor and program reviews, other friends/co-workers who have completed the program, and because of the tri-module program and small classes. This degree hosts a diverse group of people in various points in their careers. Some haven't started, while others have a few years of experience under their belt, and others are well-advanced in their professional careers and are looking for the next step.
I would like to earn my degree to better position myself to become a Human Resource Generalist in Higher Education. I do enjoy the Employee Relations side of HR, but I can also see myself growing within Training and Development as well. The SHRM graduate degree at SHU is giving me the skills I need to succeed and advance in my career!"
Connect with a community of HR professionals at SHU:
At Sacred Heart University, we are dedicated to preparing tomorrow's thought leaders in the field of human resource management. We are eager to accompany you on your journey to mastering the art of strategic human resource management — by helping you build the skills and knowledge you need to excel in your career.
If you still have questions about whether an SHRM program is right for you, please consider requesting more information. We can't wait to help you achieve your goals!
Everything you need to know about a graduate degree in strategic human resource management can be found in our guide — download it today.