The field of human resource management is growing quickly — faster than the national average, in fact. If you're reading this, chances are that you're interested in developing the skills needed to strategically plan, direct, and coordinate the administrative and business functions of an organization in today's competitive professional landscape.
And maybe you're wondering: What's the best way to advance my skills and knowledge in this field? Is getting a master's degree related to human resource management the right next step for me? What kind of HR program is going to best prepare me to really lead in the field?
With these questions in mind, let's explore strategic human resource management (SHRM) as a discipline and then assess several of the booming careers related to this unique field.
What is Strategic Human Resource Management?
So, what is strategic human resource management? And what is the difference between human resource management and strategic human resource management?
Human resource management is an umbrella term, implying "the implementation of management principles of managing the workforce of an organization." Typically, HR management is concerned with hiring, onboarding, and retaining a business's most powerful asset — the people.
According to the Society for Human Resource Management (SHRM), strategic human resource management "involves a future-oriented process of developing and implementing HR programs that address and solve business problems and directly contribute to major long-term business objectives." In other words, SHRM professionals are proactive in nature; they assess the strategic goals of an organization with the overarching business goals in mind — gathering information and making data-driven decisions in order to initiate positive change and achieve better results.
Graduates of a strategic human resource management degree go on to become trusted advisors, diplomatic leaders, and strategic trailblazers who excel in today's complex business environment. Below are just a few important statistics for you to consider as you think about advancing your career in the field of HR: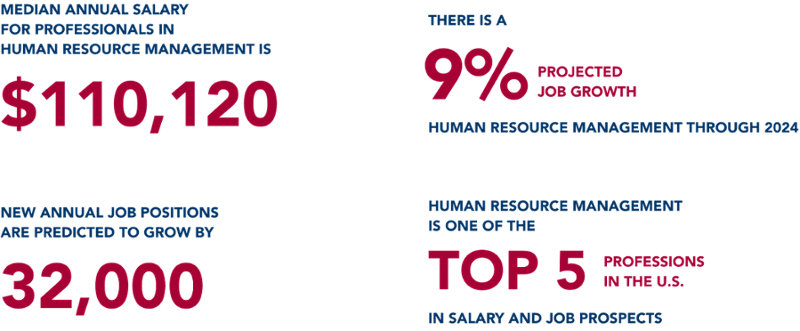 Practically, what kinds of careers are available to professionals who have mastered sought-after skills in the context of a Strategic Human Resource Management graduate program? Let's explore five of those roles now.
1. Strategic Human Resource Manager
Generally speaking, in your role as a strategic human resource manager, you will be responsible for overseeing other HR associates, specialists, and generalists, as well as taking an active role in the development and mentorship of your organization's assets. Considering the wide breadth of responsibilities strategic human resource managers have, it is essential that they come into their career with the training and education needed to succeed.
Pursuing a graduate degree in strategic human resource management will help you develop the advanced quantitative skills and real-world knowledge it takes to contribute to an industry at the highest levels. By obtaining a graduate degree in this field, you'll cultivate the skills not only needed to effectively manage teams in an HR setting, but will also have the knowledge needed to make data-driven decisions for the business landscape in which you land a position.
2. HR Entrepreneur
Not familiar with the concept of an HR entrepreneur? In a forward-thinking article published by Medium, asserted is the notion that an HR entrepreneur isn't simply a partner to the business, but a part of the business itself: "The point behind HR Entrepreneurship is to have purpose-led work, assume more risk and think like a business." In short, to succeed as an entrepreneur in human resource management, you "must think beyond HR." You must extend yourself, sit shoulder-to-shoulder with decision-makers in your industry, and intimately know the challenges that a business is facing.
Entrepreneurship — of any kind — isn't for the faint of heart, but armed with a respected graduate degree that's designed to teach you both the nuts-and-bolts of business and the critical-thinking skills needed to effectively lead a team, you'll be a force to be reckoned when seeking to establish yourself as an entrepreneur in the field of strategic human resource management.
3. Human Resource Staffing Specialist
As a human resource staffing specialist, you'll be "responsible for staffing, recruiting, and hiring new employees." In addition, staffing specialist also may be employed by a "temporary placement service, interviewing, and hiring temporary workers for your firm's clients, which are often larger companies."
Further, as a staffing specialist, you'll not only be responsible for a company's hiring needs, you'll be responsible for doing so in the context of a business's overarching business goals. In order to effectively do so, you'll need experience in a graduate HR program that teaches you how to assess a business's goals and then provide strategic recommendations regarding who will do well working in a specific professional climate.
4. Administrative Services Manager
Administrative services managers are masters of efficiency. These managers oversee day-to-day business operations and strategize how to help companies run more smoothly and effectively. Their responsibilities may include managing budgets and spending, overseeing business goals related to revenue, and implementing various processes based on other logistical needs.
If you enjoy multitasking and value the art of being detail-oriented, this type of human resources management career might be a great fit for you. In light of this role becoming increasingly competitive, keep in mind that a graduate degree will not only give you a crucial edge in the job-seeking process, but will also provide you with the knowledge and experience required to land higher-level positions further on in your career.
5. Training and Development Manager
Training and development managers are responsible for equipping the staff of their organization with the trainings, continuing education, and/or skill-building opportunities needed to optimize efficiency — considering both short-term and long-term business objectives .
For those who are interested in social justice and human rights, pursuing a role as a training and development manager can provide a unique opportunity to implement programs like Unconscious Bias or Anti-Racism trainings. This role typically requires several years of work experience — making obtaining a graduate degree a strategic option when assessing your long-term career goals.
Why choose Sacred Heart University's Strategic Human Resource Management Degree?
Watch the short video below to hear from Sacred Heart University's Strategic Human Resource Management community — both expert faculty and successful alumni.
Sacred Heart University is eager to accompany you on your journey to mastering the art of strategic human resource management — by helping you build the skills and knowledge you need to excel in your career.
There are a few aspects of the SHU Strategic Human Resource Management degree program that make an enormous difference in preparing you to become a leader in the HR field, and here are just a few we'd like to highlight:
Flexibility: Sacred Heart University prides itself on the variety of enrollment options we provide to SHRM students. Whether you want to take classes on campus, prefer online classes to accommodate your work schedule, or a combination of the two — SHU is ready and able to facilitate your learning needs. In addition to picking the delivery method that meets your needs, you can also choose to work through the program in as little as one or as many as four years. Sacred Heart's Strategic Human Resource Management degree is designed by you, for you.
Elite: The SHRM program is a part of the Jack Welch College of Business & Technology at Sacred Heart University — a college that has the rare distinction of being accredited by the international Association to Advance Collegiate Schools of Business. This recognition has been earned by less than 5 percent of Colleges of Business around the world. When you become a member of SHU's program, you can be assured you are receiving a top-quality education.
Experienced: SHU's Strategic Human Resources Management faculty bring with them the experiences and knowledge gained from decades of experience in the field. In fact, our full-time College of Business and Technology professors have a total of more than 850 years of combined work experience in business, and the vast majority of them hold doctoral-level degrees. When you choose to become a part of Sacred Heart's SHRM program, their expertise is at your disposal.
The goal of Sacred Heart University's Strategic Human Resource Management program is to foster learning and encounters that will enable HR management professionals to go forth into the world of business with passion, integrity, and acuity. Our program has everything you need to advance your career. If you still have questions about whether an SHRM program is right for you, please consider reaching out and requesting more information about our program. We're ready to help you achieve your professional goals!
Everything you need to know about a graduate degree in strategic human resource management can be found in our g
uide — download it today!