Are you currently working in the healthcare field and are interested in pursuing an advanced degree in nursing? Do you want the opportunity to hold leadership positions, earn a more competitive salary, and even be eligible to practice autonomously?
If these you answered yes to either of these questions, then pursuing a Doctor of Nursing Practice (DNP) degree with a Family Nurse Practitioner (FNP) focus, could be the perfect graduate degree for you. There is currently a significant need for primary care providers throughout the United States, and specifically in Connecticut, and FNP-DNP graduates are in the ideal place to address this need.
To prepare healthcare professionals to provide excellent, comprehensive care to a wide variety of patients, the College of Nursing at Sacred Heart University offers a rigorous FNP-DNP degree program. We are excited to announce a new resource — Do you want to advance your nursing career? A Guide to Understanding the DNP Degree and FNP Specialization — which explores the degree in detail and offers prospective students all the information needed to decide if this degree is the best fit for them.
Within the guide, you will find a wealth of information covering topics such as:
What do nurse practitioners do?
Understanding the FNP specialization
The difference between a DNP and MSN
Benefits of earning a DNP degree
Stories from current DNP students
Insights from SHU Nursing faculty
Career outlook for FNP-DNP graduates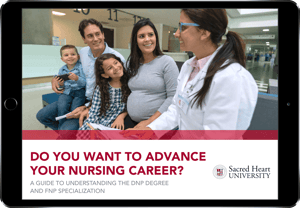 Our hope is that this guide answers many of your questions about the Doctor of Nursing Practice degree and Family Nurse Practitioner specialization. We invite you to reach out to us and request more information about our program, or email us directly to discuss getting started. Thank you for considering Sacred Heart University for your graduate education and best of luck on your future academic pursuits!
For a comprehensive overview of the FNP-DNP degree, including career outlook and a program overview, download our resource — Do You Want to Advance Your Nursing Career?