When you're preparing for a first date, you probably spend some time thinking about which restaurant you'll go to, what you're going to wear, and even what you're going to talk about in order to avoid any awkward lulls. Sound familiar?
Well, your statement of purpose for graduate school is much like that first date. It's your first and best chance to showcase your winning personality and dedication to academic excellence, and to steal the hearts of the admissions committee. How you craft a successful statement of purpose is much like how you prepare for that date — with intent and creativity, finding ways to highlight what makes you the ideal candidate.
What is a statement of purpose? Why is it important for grad school?
A statement of purpose is just one piece of your graduate school application, but it is an incredibly important one. This concise personal essay is a persuasive piece of writing that showcases who you are as an applicant and why you are interested in pursuing an advanced degree in your field.
Pro-Tip: If you want to know what you can expect from a graduate program, be sure to explore these 8 important differences between undergraduate and graduate school.
Students who apply to graduate programs already have a narrow area of interest and a desire to earn a degree that will facilitate their career in the field. The statement of purpose aims to convince the admissions committee of your interest in the degree, your drive to succeed, and your alignment with the goals of the program and the university as a whole.
How do I begin writing a statement of purpose for graduate school?
While most graduate schools will follow the same general format for their statement of purpose, the first step is to check each specific school's application guidelines for a writing prompt or instructions. A statement of purpose generally covers basic questions like who you are, why you are interested in this particular field or degree, how you will add value to this graduate program, and how you anticipate using your degree in the future.
After reviewing the prompt, you should reflect on how you want to answer the questions. You can jot down general responses and keep notes as you reflect on these questions over the next couple of weeks. This is also a great time to ask your family, colleagues, or undergraduate professors for some feedback — they may be able to offer you some valuable insights about your personality and best qualities, and how to effectively present yourself to the admissions officers.
Before you sit down to iron out a statement, check out these quick tips from the graduate admissions professionals at Sacred Heart University.
7 Tips from the Admissions Professionals at Sacred Heart University:
There is much more to a graduate application than test scores and writing skills. The statement of purpose is a chance for us (admissions counselors) to get to know you. We want to be convicted of your desire to pursue a field of study. We also share in your excitement over how this degree will impact your life and future career.
We read and review several applications every day, and we are able to say, with confidence, that there are several things you should do when crafting your statement (and a few things to definitely avoid).
Here are our seven tips for an excellent graduate school statement of purpose.
Pro-tip: You can scroll to the bottom of the post for an infographic with Do's and Don'ts for writing your statement!
1. Tell us a story.
It's easy to say: "I'm hard-working, dedicated, and passionate about what I do" (hint: we get a lot of students who tell us those things). It's way more compelling to demonstrate through an anecdote how you embody those attributes. Also, not only is a great story more convincing, it's more memorable. After reading a dozen essays a day, you'll have a better chance if your statement stands out.
2. In 1,000 words or less, tell us why you want to join this program.
During your years of graduate study, you'll write a lot. The statement of purpose is one opportunity to showcase your ability to communicate your thoughts concisely and effectively. You only have 1,000 words (give or take) to convey your desire to join a graduate program, so every word and sentence counts. The most effective essays are creative and compelling, while still trim and persuasive. Make sure every sentence in your statement has a purpose and adds value.
3. Help us get to know you.
We are always looking for the right people to join our community of passionate, dedicated learners. The statement of purpose is your chance to demonstrate your character, values, and unique interests, and to paint a full picture of who you are, in and out of the classroom. It's important to strike a healthy balance in your personal statement, so introduce us to your hobby for cooking global cuisine while tying it in to your research interests in public health.
4. Remember: It's still a formal piece of writing.
While we want you to be free to share who you are, we encourage you to remember this is an application for a graduate program of study, so formal academic writing is encouraged. This shouldn't hold you back from sharing your personality or passion, but rather should guide your tone and grammar as you write.
5. Ask for feedback and a second pair of eyes.
It goes without saying that proofreading your work is an essential part of writing, but having a second set of eyes on your statement will help you catch every last grammatical error and awkward sentence, and it will also help you identify areas that need clarity, improvement, or a little more power. Ask the person who is proofreading your personal statement if they were honestly moved by your writing — and if not, where you can improve.
6. If there's an issue — share the details with us.
If you got below-average grades during your undergraduate studies, now is a good time to explain your current (or past) situation. This doesn't mean making excuses or making up stories (please, do not fabricate any portion of your statement!), but if there was a factor that contributed to your less-than-desirable GPA score, you can let us know. Perhaps you went through a tough period in college; be upfront and show us how it impacted your grades, but also how you overcame that experience and how it led you to where you are today.
7. Customize each statement of purpose.
You are probably applying to several graduate schools, and that's a good thing. That said, make sure your essay reads like we're the only school on your list. Include specifics about why you want to attend our school for your degree. While some sections of your statement can remain the same, avoid the temptation to rinse and repeat — it will come off as disinterested and possibly, disingenuous.
---
Pro-tip: Check out our 12 do's and don'ts for a quick point of reference when writing your statement of purpose!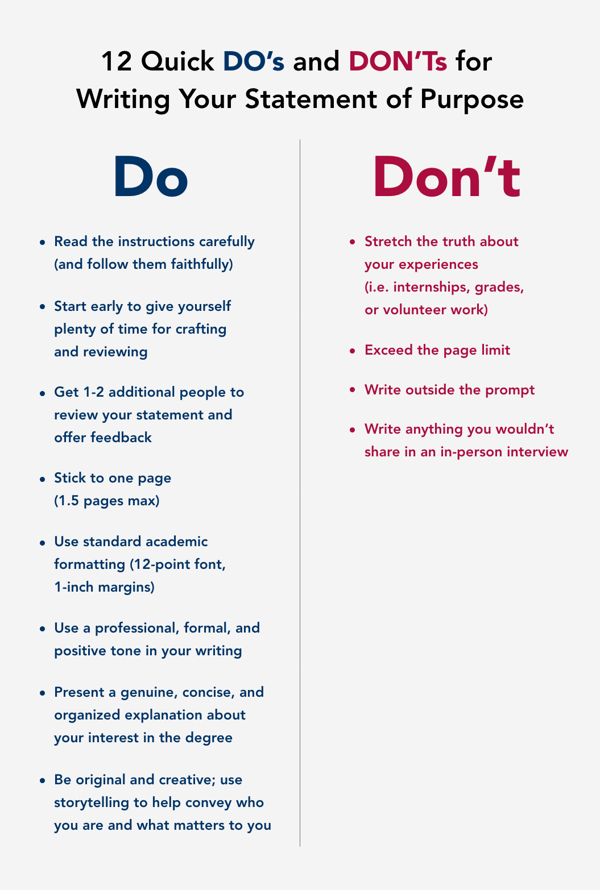 ---
Take the Next Steps with the Sacred Heart Admissions Team:
At Sacred Heart University, we are a proud and welcoming community of passionate scholars and avid learners. Our graduate programs offer the forward-thinking academic instruction required to be successful in today's marketplace along with flexibility and support to help you accomplish your goals.
We invite you to browse our graduate programs to find the one that meets your needs. You can also request more information about your program of interest, and an admissions counselor will be in touch with you shortly. We wish you the best of luck on your application and with your graduate studies!
Visit SHU's Virtual Events Page to RSVP for an online event and to learn about transforming your future with a graduate degree.