Free eBook: Your Transfer Guide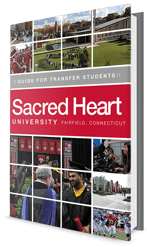 Transferring between universities is a big decision. It is our job at Sacred Heart University to help make your transfer process as seamless as possible. With the help of our staff and students who have gone through this transition before, we can give you a glimpse into daily life both in an out of the classroom. This ebook is just your starting point, and we are here to help every step of the way!
It highlights the following:
How to begin the transfer process
Credit Evaluations
Transfer student services
Fill out the form and download your free ebook today!