Master of Social Work (MSW) Program Brochure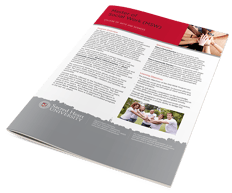 Sacred Heart University's College of Arts and Sciences offers a graduate program in Social Work that prepares students for both generalist and specialized practice. One of the greatest advantages of this degree is the integrated specialized skills in social work practice that students will gain through either direct clinical practice or direct community practice.


Our program brochure highlights the following:
A program overview
Degree requirements
Career outlooks on the rise in Social Work
Fill out the form to the right and we will email you your free Social Work program brochure today!