Master of Science in Chemistry Program Brochure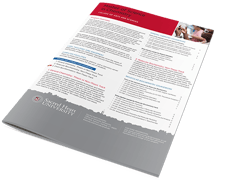 Sacred Heart offers an MS in Chemistry that contains 3 tracks that include Chemistry, Molecular Biochemistry and Chem-Bioinformatics. Each of these have thesis and non-thesis options. We also offer part-time and evening classes for working professionals.

Our program brochure explains our offerings at our Fairfield, CT campus and highlights the following:
A program overview
Admissions information
Course requirements and layouts
Fill out the form, and we will email your free Chemistry brochure today.