Master of Science in Applied Psychology Program Brochure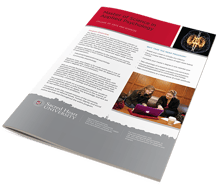 Sacred Heart University offers an M.S. in Applied Psychology with two concentration options: Industrial/Organizational Psychology or Community Psychology. Courses for each of these tracks are offered in a series of eight week sessions at our Fairfield, CT campus in an evening, hybrid (online and on-campus) program. This design allows students to accelerate their degree and complete the program in one calendar year.

Our brochure explains the program in more detail and highlights the following:
Program overview and unique attributes
Course requirements
Admission requirements
Fill out the form, and your free Applied Psychology program brochure will be emailed to you today.