MPA Program Brochure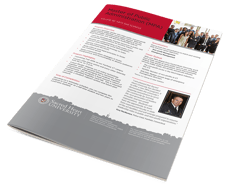 Sacred Heart University's Master of Public Administration (MPA) program has a great deal to offer prospective students interested in becoming innovative leaders in the community. This program can be completed in as little as one year (as a full-time student), and is delivered in a hybrid format of both on-campus and online courses. The first cohort is starting Fall of 2018. Our program brochure will give you an overview of what you will gain from pursuing the Master of Public Administration program at Sacred Heart University.
Specifically, the brochure highlights the following:
Curriculum
Admission Requirements
Financial Assistance Information
Fill out the form, and your free Master of Public Administration program brochure will be emailed to you today!