Master of Business Administration (MBA) Program Brochure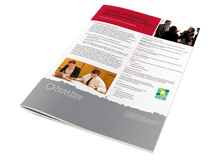 Sacred Heart University's MBA program has a great deal to offer to prospective students. Our program brochure will give you an overview of what is required and what you will gain from pursuing the MBA at Sacred Heart.
Specifically, it highlights the following:
Class locations, program durations, and degree requirements
Sample curriculum
Admission information and financial assistance
Fill out the form, and we will email your MBA Program Brochure today.