Master's Degree in Communications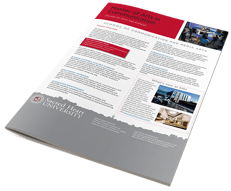 Sacred Heart University offers an MA in Communications that is designed by industry leaders to develop hands-on skills in every student. Concentrations are offered in corporate communication and public relations (CCPR), broadcast and digital journalism (BDJ), and digital multimedia production (DMP). The Master's Degree in Communication (MACOMM) from Sacred Heart, positions its students to stand out as innovative storytellers and content creators in today's media industry.

Specifically, the brochure highlights the following:
A program overview
Learning objectives
Admissions and financial assistance information
Fill out the form, and we will email your free Communications program brochure, today!