MA in Communications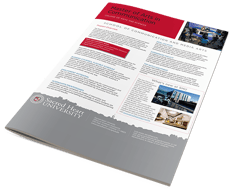 Sacred Heart offers an MA in Communications that is designed by industry leaders to develop hands-on skills and professional opportunities for students. Every student's program of study is unique to his or her professional interests with opportunities at every corner to publish, broadcast, and distribute individual and group work.

Our program brochure gives more information about the following:
A program overview
Admissions information
Course requirements and concentrations
Fill out the form, and we will email your free Communications program brochure today!