Teacher Certification Program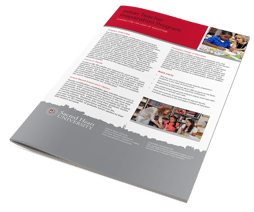 Sacred Heart University's College of Education offers an initial teacher preperation program. Students will gain the most up-to-date teaching methods while earning your Initial Certification.
Our program brochure will give you an overview of what is required and what you will gain from pursuing the Teacher Certification program at Sacred Heart.
Specifically, the brochure highlights the following:
Program Delivery
Curriculum
Admission & internship information
Fill out the form, and we will email your Teacher Certification program brochure to you today!