Connecticut Literacy Specialist Program (CLSP) Program Brochure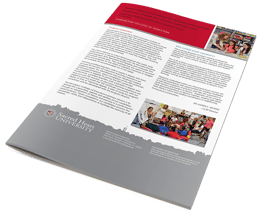 The Connecticut Literacy Specialist Program (CLSP) provides professional education to graduate candidates in the area of Reading and Language Arts. The overall goal of the program is to prepare candidates to lead educators and school districts into the best practices of school reform available in the twenty-first century. Candidates' training will give them the skills to lead staff development, run intervention clinics, chair appropriate departments, manage summer programs, write grants, or provide all of these services in single-school settings. Graduates will be prepared to assume a leadership role, perform independent research, or pursue doctoral study. The CLSP accommodates part-time candidates who are currently teaching in a school system.
Our program brochure will give you an overview of the two-tiered programs (102 and 097 certifications) offered and what you will gain from pursuing the CT Literacy Specialist Program at Sacred Heart.
Specifically, the brochure highlights the following:
Program delivery
Curriculum
Admission and financial assistance information
Fill out the form, and we will email you your CT Literacy Specialist Program (CLSP) brochure to you today!